Show Posts
This section allows you to view all posts made by this member. Note that you can only see posts made in areas you currently have access to.
Topics - GySgt B. Specter
Pages: [1]
1
« on: 01 September, 2020, 05:10:40 pm »
2
« on: 15 August, 2020, 11:00:00 pm »
TEST Application -
Applicant Account
Age: 18
First Name: Dustin
Last Name: Truelove
Steam Profile Link:
https://steamcommunity.com/id/112339123098/
ArmA III Player ID: 76561198135396291
Desired Duty Assignment: 0311 Rifleman
How Long have you been playing ArmA III: 1700 hours
Do you own Arma 3 Apex DLC? (Unit Requirement): Yes
Availability (Sunday/Saturday/Both):
---
---
How did you find out about our unit?
Steam
If you were recruited by one of our members, who was it?
Why do you want to join the 22nd MEU?
Was looking for a unit on Steam
Do you understand the definition of realism gaming according to the 22nd MEU and willing to abide by this game style?
Yes
Do you understand this unit is EST (GMT -5) time zoned based and operations take place on Saturday at 1500 EST and Sunday at 2000 EST?
Yes
3
« on: 14 August, 2020, 12:47:50 am »
Server IP: 167.114.169.77

Server PW: 22MEU
4
« on: 11 August, 2020, 11:42:12 pm »
Rank: TSgt (506th) GySgt (3dMRB)
Name: Brian Specter
Auxillary Qualifications: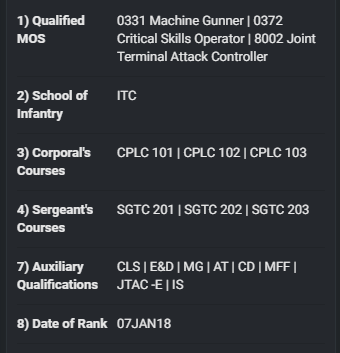 Arma 3 PID: Optional
I understand that by requesting an inner-service transfer understand that when transferring I may not stay at the same pay-grade previously held in other units, and also understand that I may not retain the same billet previously held: Yes.
Pages: [1]